My Face Coverings Journey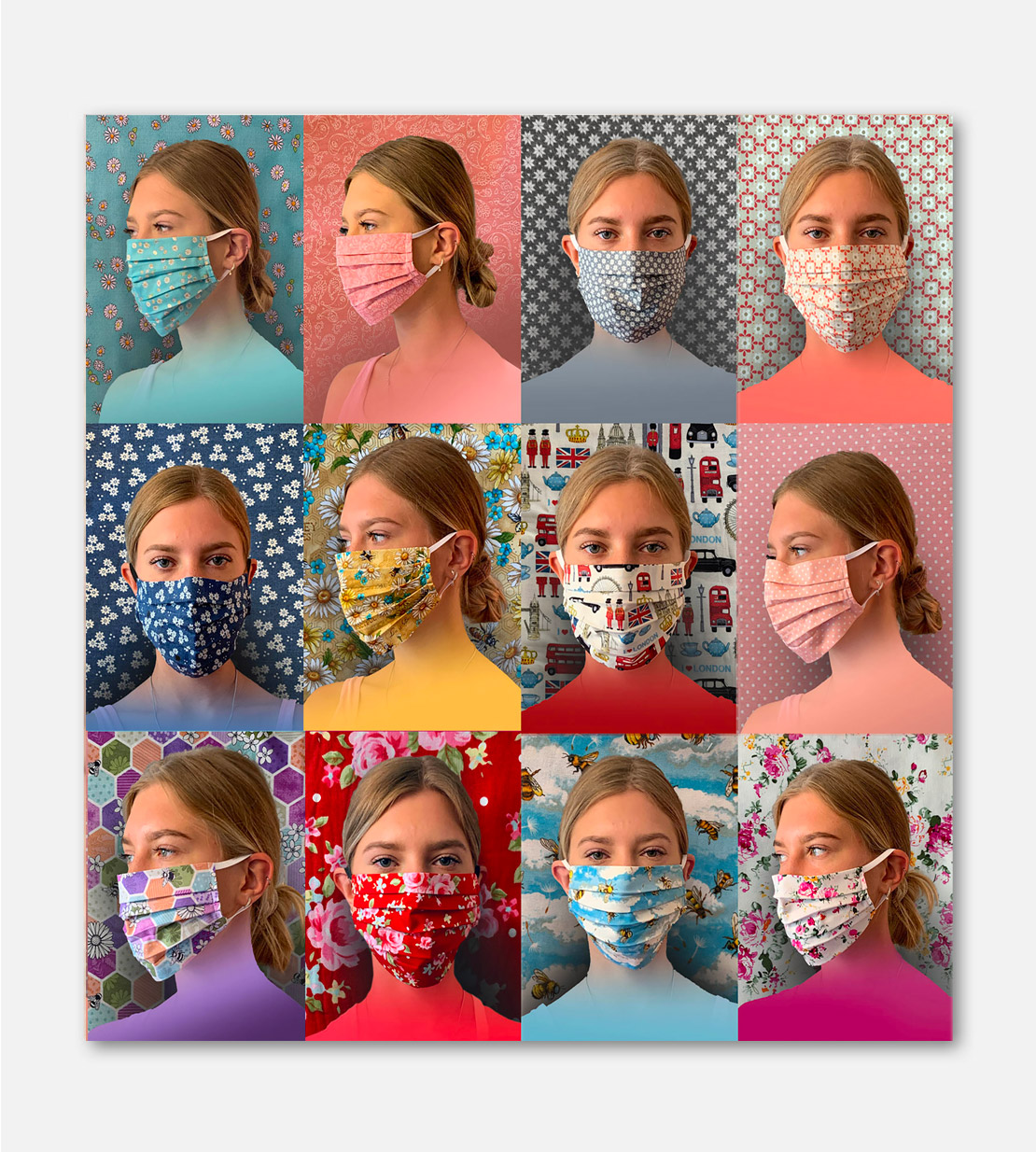 As COVID-19 impacted my bridal business, amongst so many others at the end of March, I spent April wondering how to put my skills to good use. Home schooling in the mornings left afternoons free. First off, I produced a limited edition sketch for my NHS friends, using my Sketch My Dress approach to Create a Union Jack / NHS logo dress. I produced 50 copies which were sent out to wards at hospitals all over the North West.
As my sewing machine sat idle, I then decided to start to produced face coverings, using the fabrics in my studio. On May 8th, I sold my first face covering. My Sketch My Dress website was adapted to accomodate my range of coverings.
It was steady to start with, then one day the Government made face coverings mandatory on public transport, and sales started to rocket! Handwritten envelopes evolved to integrated Royal Mail print outs, stickers and thank you cards were ordered, then re-ordered as I ran out. My husband took time off work to help wrap and pack. It was great to be busy again, even in such uncertain times. As well as personal orders, it was greta to receive orders from offices, doctors practices, restaurants and coffee shops too. 
Three months later, and now face coverings are mandatory in various locations all over the UK, I've hand made over 2,000 face coverings! I've been able to support my local fabric store (as well as many other retailers) as my fabric stock ran low. Sadly, some of my favourite patterns became unavailable and despite buying from other sellers both here in the UK and the USA, some patterns we're simply no longer available. However, I've been able to source new exciting fabrics and patterns, and am looking forward to starting to look at Hallowe'en and Christmas editions.
Its been a busy yet exciting few months, in very difficult times, but I look forward to seeing where I can take the face coverings next – Ive started looking at the fitted design face masks in addition to the pleated style, as well as padded extenders for long journeys, and eye masks. Matching dog neckerchiefs are too follow, as will neck gaiters and scarves. I hope to create a dedicated website and brand away from Sketch My Dress, and as we hopefully return to normality, continue to grow a new brand alongside my beloved bridal business.
Thank you for your support xx Jennifer xx